VOS stands out as an innovative wine brand, rooted in its environmental commitment with a global reach, covering countries such as the United States, Brazil, Chile and Mexico. Founded by Cristóbal Toral and his team, VOS is entrenching the market with two distinctive first lines: Series 250 and HS.
On this occasion, we will explore the richness of the Hospitality Series line, also known as HS. With an approach that goes beyond the conventional, it is presented as the ideal choice to satisfy the demands in the hotel and restaurant field, enriching the experiences of tourists and visitors in an exceptional way.
Adventurous spirit: The heart of VOS
The heart of VOS beats in those with an adventurous spirit, with the desire to expand their borders, whether for business trips, vacations or to discover incredible destinations. The people who feel identified with VOS are brave people, who are not afraid of living new experiences, and who tirelessly seek to learn and experience new sensations.
VOS allows you to discover new destinations, countries and hidden corners, through wines and pairings explained not only by experts, but also by people with a similar adventurous spirit, who have shared their opinions about wine, their ideal pairings and the place where they have captured this unique experience.
Hospitality Series: Excellence in wines for hotels
The VOS Hospitality Series features a diverse selection that includes Cabernet, Merlot, Chardonnay and Blend. This time we will focus on the distinctive profiles of Cabernet Sauvignon and Chardonnay. Join us as we take a closer look at these two varieties, which embody the essence that defines the HS Series.
Hospitality Series Special Edition Cabernet Sauvignon
The exclusive Special Edition HS Cabernet Sauvignon is designed to captivate the senses of those who taste it. The 100% Cabernet Sauvignon grapes provide an intense and vibrant ruby ​​red color, accompanied by aromas that evoke ripe fruits such as juicy plums and fresh blackberries, intertwined with subtle spicy notes that enrich its profile. A pleasant sweetness unfolds on the palate, highlighting its remarkable structure and elegant tannins that culminate in a persistent finish.
This wine has been carefully matured in American barrels, with grapes harvested both mechanically and manually during the month of April, in total harmony with natural cycles. The HS Cabernet Sauvignon Special Edition becomes the ideal accompaniment to enhance the flavors of roasted red meat and game dishes, as well as to complement the experience with mature cheeses. We recommend serving it at a temperature of 18°C ​​to unfold its full potential.
With an alcohol content of 13%, this wine is not only a sign of dedication to excellence, but also a way to surprise and delight with an unforgettable wine experience. HS Cabernet Sauvignon becomes a key component in providing your guests with a unique and memorable experience during their stay at your hotel.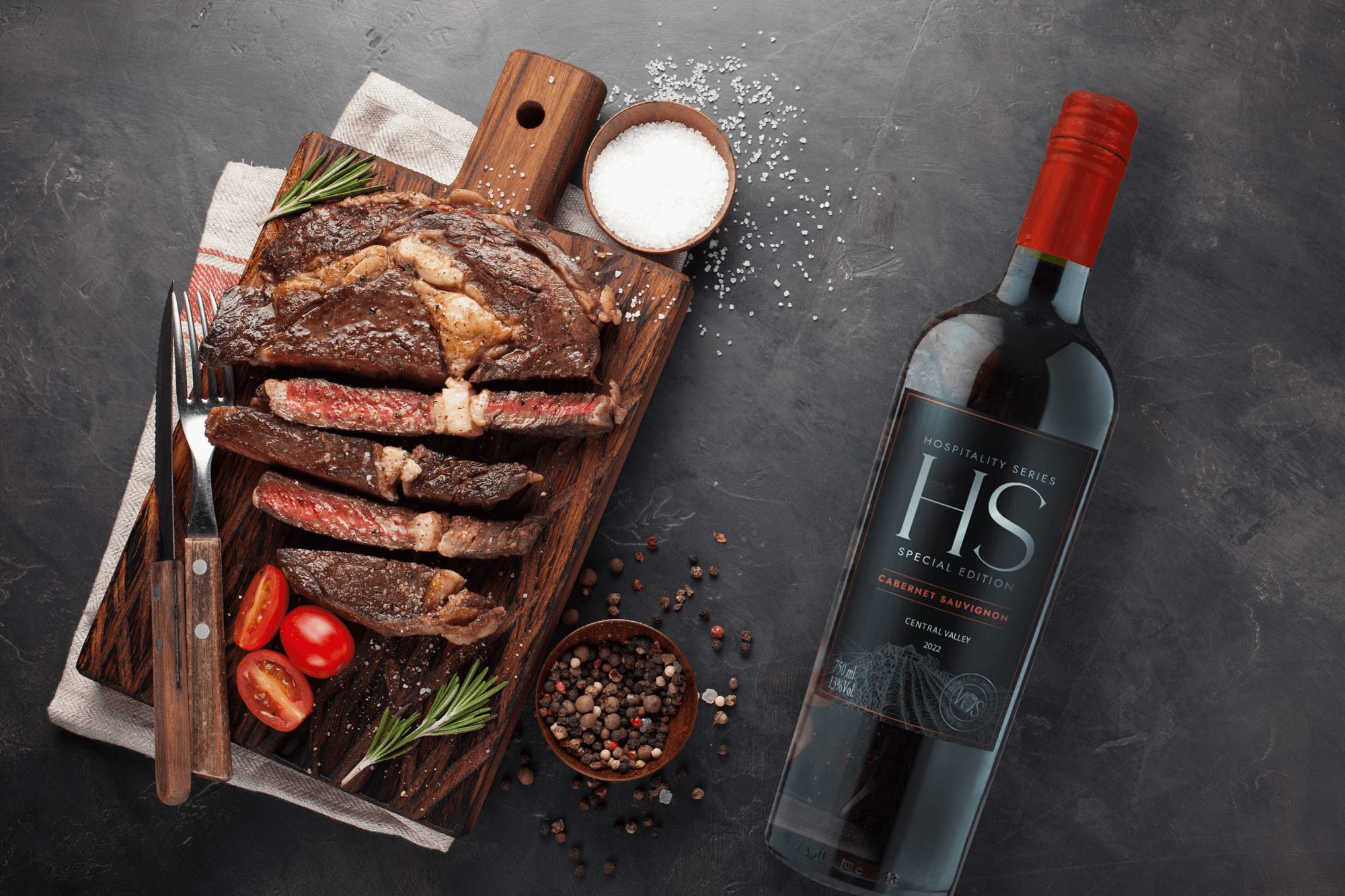 Hospitality Series Special Edition Chardonnay
The Hospitality Series Chardonnay pays homage to deep, alluring yellow that dazzles the senses. This authentic creation, made 100% with the Chardonnay variety, displays the opulence of tropical fruits such as pineapple, mango and banana, in perfect fusion with delicate notes of honey. Its soft and balanced tannins are mixed with a subtle undertone of elegant toast, providing depth in each sip.
The meticulous aging process in American barrels culminates in a wine that becomes the ideal complement to enhance a variety of dishes. From grilled fish to fresh shellfish, through sophisticated pastas and a wide range of cheeses, HS Chardonnay enriches each bite with its unique presence. The ideal temperature to enjoy its splendor ranges between 12°C and 14°C, allowing each nuance to be fully revealed.
With an alcoholic content of 13% vol, this Chardonnay becomes a refined choice to complement the culinary experiences in your hotel. The fusion of flavors and elegance in every detail make this wine an invitation to discover new dimensions of flavor and sophistication, delighting your guests and enriching their gastronomic experiences.
The VOS HS series is truly a true tribute to Central Valley winemaking excellence. Each bottle captures the essence of its place of origin, taking wine lovers on a sensory journey full of flavor and elegance. Whether you're exploring the different characteristics of Cabernet Sauvignon or diving into the richness of Chardonnay, the Hospitality Series encourages you to discover new pleasures and elevate your culinary and travel experiences.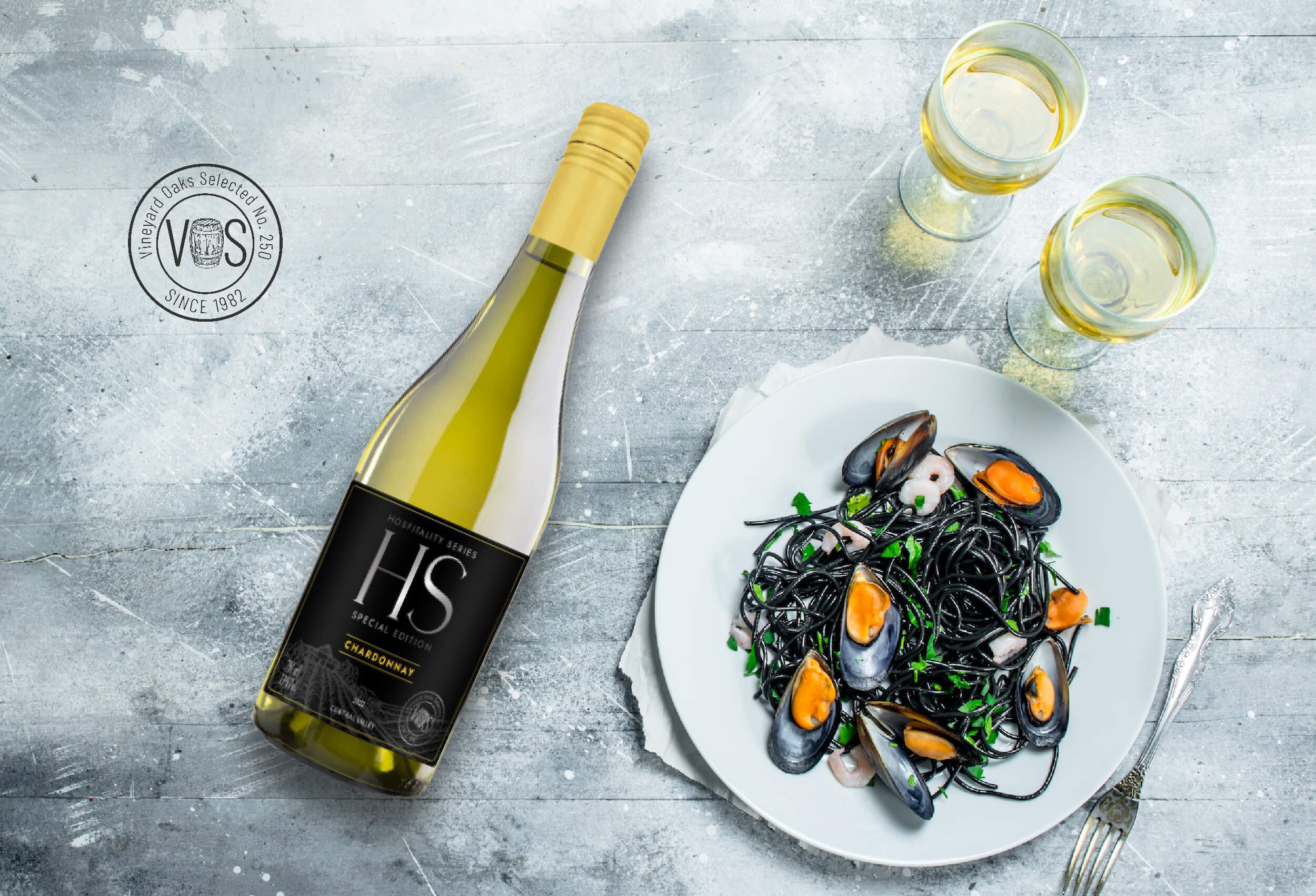 If you would like more details about our wines and commercial options, do not hesitate to contact us through the following email: [email protected]. We are excited to collaborate with you and help you expand your product catalog.
_ _ _ _ _ 
We take this opportunity to express our deepest gratitude to AC Marriott Wynwood for having placed their trust in us and in the quality of our HS Hospitality Series wine. It is an honor and a privilege to be part of your selection of suppliers and contribute to the excellence that characterizes your hotel.
We hope that each bottle opened is a reason to celebrate excellence in wines and enrich flavours, adventures and emotions. Cheers!